Death toll rises to 70 in bomb attack on hospital in Pakistan
Comments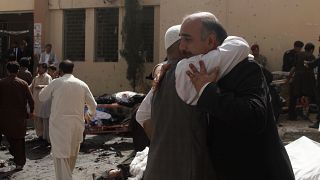 At least seventy people are now confirmed dead with over 100 injured following a suicide bomb attack at a hospital in Quetta, Pakistan.
The terrorist targeted a group of mourners, mostly journalists and lawyers, who had gathered in honour of a prominent lawyer who had been shot dead just hours before.
Prime Minister Nawaz Sharif and the head of the army visited the hospital after the bombing and were met with recriminations and demands not to let the murders go unpunished. Both ISIL and the Pakistani Taliban have claimed responsibility.
"For God's sake, do not back away. They are a handful of people; we will fight against them with all our might. Lawyers are honest citizens, they are the cream of the society, who have they harmed? The president of our bar, (Bilal Anwar Kasi, president of the Baluchistan Bar Association), was killed, our colleagues were killed, we remained silent", said one lawyer.
"We were leaving the hospital after Kasi's autopsy and media were interviewing lawyers when the blast took place. For many minutes there was darkness all around, then we heard shots," said one eyewitness, lawyer Meraj Tareen.
Doctors warn the large number of wounded meant the death toll could rise. Quetta, the capital of Baluchistan province, is a hotbed of Islamic extremism and the city is fighting against an increase in targeted killings of government figures, secular leaders, and opponents of the Taliban.