Gold medals for China, Hungary and US in Rio Olympic swimming Day 3
Comments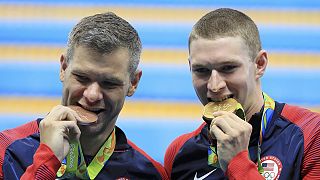 Sun Yang has gained his second medal at the Rio Olympics on Monday, winning gold in the Olympic men's 200 metres freestyle. He becomes the first Chinese swimmer to win the event. He beat South Africa's Chad Le Clos by 0.55 seconds and the US's Conor Dwyer took bronze.
In the men's 100 metres backstroke, the US's Ryan Murphy won gold, making it six successive wins for the US in that event since the 1996 Atlanta games. China's Xu Jiayu won silver and the US's David Plummer took bronze in his Olympic Games debut at the age of 30.
Hungary's Katinka Hosszu has won a second gold medal, after coming first in the women's Olympic 100 metres backstroke. She beat Kathleen Baker of the United States who took silver and Canada's Kylie Masse and China's Fu Yuanhui dead heated for a bronze medal.
In the women's 100 metres breaststroke, Lilly King won the gold medal. She beat Russia's Yulia Efimova who was greeted with boos from the crowd. The US's Katie Meili took the bronze.