Delta cancels 530 flights as it recovers from major glitch
Comments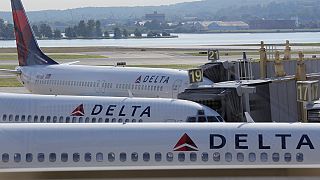 Air passengers booked to travel on Delta are experiencing a second day of delays as the airline recovers from what it says is a "major system-wide power outage".
Delta said it had cancelled 530 flights on Tuesday. That was more than double an earlier statement of 250.
It said it would offer compensation and vouchers to customers affected by significant delays or cancellations.
On Monday 1,000 flights were cancelled as a result of the computer glitch, stranding passengers around the globe.
Delta's CEO apologised to customers on a video posted on the airline's website and said they were working round the clock to restore its systems.
Second day of Delta travel woes: 530 cancellations, 700 delays. https://t.co/uWBl8TFRRipic.twitter.com/ybfbIwKDoZ

— The Oregonian (@Oregonian) August 9, 2016