Putin in Baku for talks with Azerbaijan and Iran
Comments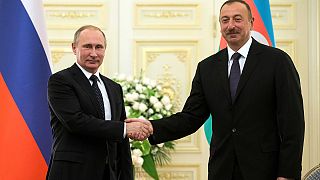 Russian President Vladimir Putin is in the Azerbaijan capital Baku for talks with President Ilham Aliyev, and Iran's President Hassan Rohani ahead of his meeting with Turkey's president on Tuesday in St Petersburg.
The three men are expected to issue a joint declaration on spheres of co-operation and mutual interests that will be be picked over in fine detail by their neighbours, Europe, and the USA.
"We should be thankful to Azerbaijan's President, Mr Ilham) Aliyev, for organizing this meeting which gives us an opportunity to discuss the situation in the region in the three-party format," said Putin.
Iran has recently expressed frustration that its nuclear deal with the west has not led to more immediate economic or political gains, although it has cleared a path to a more active regional role.
"We will never forget the positive role that Russia played in achieving an agreement on our nuclear program and will never forget your personal role in the implementation of this agreement," said Rohani to Putin.
Baku's fading energy boom has led to economic crisis, and the unsettled dispute with Armenia over Nagorno-Karabach sparked intense fighting for four days in April that claimed some 200 lives.