Northern Portugal declares forest fire emergency
Comments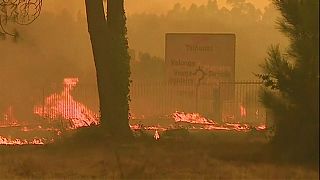 An emergency has been declared in the Porto region of Portugal, where firefighters are battling widespread wildfires.
The emergency plan was activated overnight from Sunday to Monday.
What does it mean?
The plan:
is active for 48 hours
means more personnel can be deployed
Portugal's fires: what is happening where
500 firefighters currently deployed near Porto, tackling 35 separate fires
2000 personnel battling 100 fires across the north of the country
500 firefighters fighting two fires in Aveiro region south of Porto
215 firefighters, 67 vehicles, two aircraft, four active fronts – Águeda
154 firefighters, 52 vehicles, two aircraft – Barcelos
First big blazes of the summer
Portugal has been spared a major outbreak of forest fires so far this year.
However, strong winds and high temperatures have fanned the flames over the weekend.
Forecasters say the risk for the north of the country until Wednesday is "very high" or at its "maximum".
Portugal: 'Maximum' risk of fires in 16 municipalities across mainland Portugal (https://t.co/DK9jvUQ8mL)

— LusaPTNewsAgency (LusaNewsAgency) <a href="https://twitter.com/LusaNewsAgency/status/755710819258683392">July 20, 2016</a></blockquote> <script async src="//platform.twitter.com/widgets.js" charset="utf-8"></script> </p> <p> <blockquote class="twitter-tweet" data-lang="en"><p lang="en" dir="ltr">PORTUGAL - A firefighter pulls a hose as he combats a wildfire in Bustelo close to Barcelos. By <a href="https://twitter.com/MiguelRiopa">MiguelRiopa #AFPpic.twitter.com/pYOdHAS1zu— AFP Photo Department (@AFPphoto) August 8, 2016