Georgia marks anniversary of 5-day war
Comments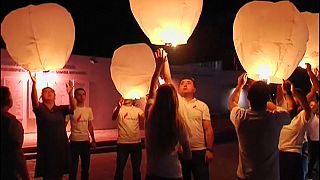 Georgia commemorated the eighth anniversary of its five-day war with Russia on Monday (August 8).
Georgia's prime minister Giorgi Kvirikashvili laid a wreath at a memorial at the Mukhetgverdi Military Cemetery.
Events were also held to pay tribute to those killed during the armed conflict.
Hostilities broke out in the Georgian separatist region of South Ossetia on the night from August 7 to 8, 2008.
The conflict lasted for five days before a ceasefire was agreed.
Hundreds of people are thought to have lost their lives in the brief war.
After the conflict, Moscow recognised South Ossetia as an independent state. The European Union and most UN member countries do not consider the region as independent.