Dozens killed in mudslides on Mexico's Pacific coast
Comments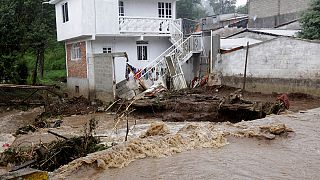 Mudslides in eastern Mexico have killed at least 38 people over the weekend.
They were triggered by intense rainfall along the Pacific coast.
Saturated hillsides collapsed onto homes as tropical storm Earl swept through the states of Puebla and Veracruz. In Puebla state at least 28 people were confirmed dead and another 10 in Veracruz as people were buried in multiple landslides.
The storm had first battered Belize before crossing into Mexico.
Mexicans are bracing themselves for more bad weather, with a new tropical storm, Javier, formed off the Pacific coast.