Thailand 'approves military-backed constitution'
Comments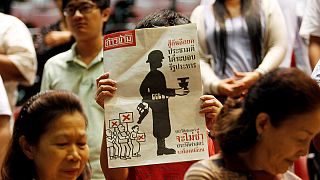 Preliminary results from Thailand on Sunday indicate voters have said an emphatic 'yes' to a new military-backed constitution – a move which critics say will extend the army's influence well into the future.
Two years on from the country's military coup, full support of the charter will mean an unelected Senate, appointed by the junta, with seats reserved for army commanders. This would check the powers of elected members of parliament.
It is a key victory for the junta's leader, Prime Minister Prayuth Chan-ocha who has suppressed political activity since seizing control in 2014 and banned all criticism of the new constitution.
The text has been denounced by opponents, including major political parties in Thailand,
as undemocratic.
Thailand votes in favour of military-backed constitution https://t.co/ebIOBuO1h5

— The Guardian (@guardian) 7 août 2016
With 94 percent of the vote counted, early results from the Election Commission showed 61.4 percent of the country had voted for the charter, while 37.9 percent rejected it.
Full results are due on Wednesday.
"The gap is wide enough not to change the result," Somchai Srisutthiyakorn, chairman of the commission, told reporters after 90 percent of the vote count had been completed.
Amid the crackdown surrounding the constitution, the authorities have detained and charged dozens of people who have spoken against it, including politicians and student activists.
Amnesty International said the junta created a chilling climate ahead of the vote through pervasive human rights violations.
The junta, however, insists the charter is designed to heal more than a decade of divisive politics in Thailand.