Watch: Kitten brought back to life after coastguard's mouth-to-mouth
Comments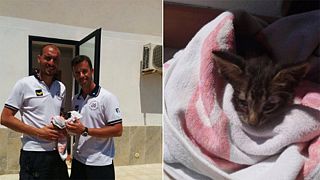 Amid the ongoing refugee crisis in the Mediterranean, the Italian coastguard is more used to saving the lives of EU-bound migrants.
But this is the moment officers transferred their resuscitation skills to save a seemingly lifeless kitten.
Coastguards were alerted to the baby cat floating in the Italian port of Marsala, one of the furthest points west of Sicily.
An officer dived in and pulled out the kitten, before performing mouth-to-mouth resuscitation and chest massages on it.
The kitten eventually managed a very weak 'meow' as it started on the path to recovery. It was later handed over to a vet, who declared him in good health.
The Italian coastguard said port authorities have now adopted the kitten, naming it Charlie.