Flash floods and mudslides kill at least 20 in Skopje
Comments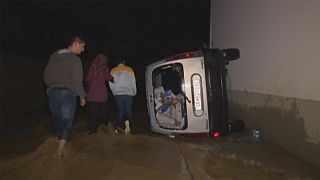 At least twenty people have died in flash floods in and around Skopje, the capital of the former Yugoslav Republic of Macedonia.
The toll is rising, and at least 100 more people have been injured in the deluge. An eight-year old girl was said to be among those killed.
Some victims drowned in their cars or got caught in mudslides. Reports said the water level reached one metre fifty in some areas.
At least 15 dead as flash flooding sweeps through Skopje https://t.co/xjuSChkt1ihttps://t.co/tQ6gx7jSlh

— Ruptly (@Ruptly) August 7, 2016
An emergency has been declared in the capital, and special police and army units have been deployed. The northern outskirts of Skopje were among the hardest hit.
The mayor said Skopje had never experienced such a disaster.
The national weather service said the equivalent of one month of rain fell on Skopje in just two hours. More rain was forecast for Sunday evening.
93 liters per m2 fell in #Skopje, #Macedonia in 24 h. yesterday. Heavy flooding. PHOTO: Skopje main shopping center. pic.twitter.com/ksiPi6okk3

— Vladimir Petreski (@VPetreski) August 7, 2016