Russia's Morozov cleared to swim at Rio Games
Comments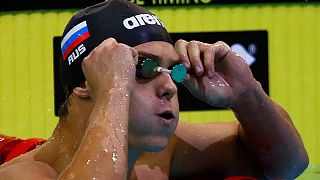 Russian swimmer Vladimir Morozov has been cleared to Swim at the Rio Olympics after winning his appeal at the Court of Arbitration for Sport.
Morozov was initially suspended by swimming's world governing body FINA after being implicated in the damning World Anti Doping Agency's 'McLaren' report, which found widespread and state-sanctioned doping in Russia.
Morozov said: "Of course I am happy. Of course I am happy, but still the feeling is left there. It was not very justified what I had to go through just two weeks before the Olympic Games. But of course I am happy. I am racing. That is all that matters."
The 24-year-old won a bronze in the freestyle 4×100 relay in London 2012.
He will compete in the 4×100 metres on Sunday when Russia will head to the pool as one of the gold medal favourites while he will also compete in the individual freestyle sprint events.