Rebels 'break government siege' in eastern Aleppo - reports
Comments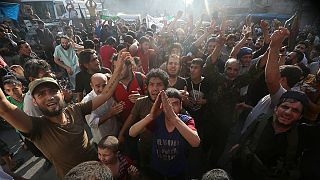 Islamist rebels in Syria say they have broken through to besieged opposition-held areas in eastern Aleppo. They claim to have carried out a successful offensive against the government's Ramousah military complex, in an effort to end a month-long blockade.
A monitoring group backs up the reports, however pro-government media outlets deny the siege has been broken.
Rebel fighters from Jabhat Fatah al-Sham, formerly the al Qaeda-affiliated Nusra Front, released images appearing to suggest they now have access to armaments belonging to the Syrian army.
If they have managed to connect with eastern Aleppo, the government-held west of the city would effectively be isolated from the capital Damascus as the southern route towards the city would be cut off.
To the north east, Kurdish and Arab fighters say they have retaken almost 90 percent of Manbij, a city captured by ISIL two years ago.
Considered a strategic city for the group, due to its proximity to the northern border, it has been the target of attacks and air strikes from the US-led coalition since late May, 2016.