Britain's Adam Peaty sets world record in heats
Comments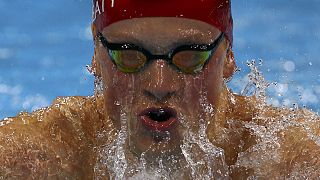 Britain's Adam Peaty broke his own world record in the heats of the men's 100 metres breaststroke at the 2016 Rio Olympics on Saturday.
The 21-year-old, who also holds the world record in the 50 metres breaststroke, finished in a time of 57.55 seconds to shave 0.37 off his previous mark set at the British Swimming Championships less than four months ago.
"I just raced today and did what I did," Peaty told reporters. "I've become an Olympian now so that's a good thing to have, but hopefully tonight we are going to move it on tonight (in the semifinal) a little bit more and see what we got."
"Hopefully tonight I'm going to feel a lot better and hopefully swim a little bit faster," he added.
"Mel, my coach, is axe-splitting in this region," Peaty said when asked if the point of going out fast in the heats was to give himself a margin. "We're not going to get too complacent now, we're going to keep pushing the boundaries and see what we get."
The defending Olympic champion, South Africa's Cameron van der Burgh, also progressed safely to the semifinal round in a time of 59.35 seconds in seventh place.