South Africa: ANC loses control of key municipality Nelson Mandela Bay
Comments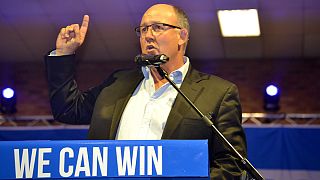 South Africa's ruling African National Congress has been dealt a huge blow in municipal elections. Its worst electoral performance in two decades at the helm has seen the party lose control of the historically significant Nelson Mandela Bay, with 98 percent of votes counted.
The ANC is still in the lead nationally.
Deputy President of South Africa and of the ANC Cyril Ramaphosa vowed to listen to the people ahead of national elections scheduled to take place in 2019.
"We are going to listen to our people, both who have voted overwhelmingly for the ANC, but we are also going to listen to those who did not vote for the ANC, because therein lies an important message," he said.
Liberals the Democratic Alliance have surged forward. The party is fighting a close battle for control over two other key cities: Johannesburg and the administrative capital, Pretoria.
Leader of the DA Mmusi Maimane called the outcome a vote for change.
"I think what has been quite clear in all of this whole process is that people have come out to vote for change and therefore even from our own perspective we will always be looking to enforce that change."
The swing in voter opinion is thought to reflect rising anger at a persistently high rate of unemployment and a lack of basic services in the country.