Does the Zika virus really threaten the Olympic Games?
Comments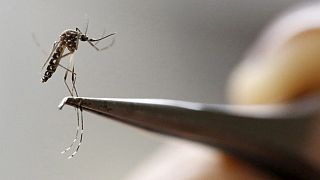 Fears that athletes will contract the Zika virus at Brazil's Olympic Games won't go away. Dozens of athletes have already pulled out, but Swiss tennis player Martina Hingis – who is back at the Olympic after a twenty year absence – and her doubles partner Timea Bacsinszky are some of the many athletes swatting away their concerns.
At a press conference in Rio Bacsinszky laughed off the threat. "I think yesterday, while we were driving with the bus to the tennis venue, there were two mosquitoes in the bus. I killed them, Only two."
According to the Pan American Health Organisation there have been 166,000 confirmed and suspected cases of Zika in Brazil during this year's epidemic. About 1,800 infants have been born with microcephaly the worst health complication, a brain deformity.
Latin America – especially Brazil – is particularly hit by the mosquito-borne virus but for a healthy adult the risk is low. The World Health Organisation for instance didn't recommend the Games were relocated as the contagion risk was deemed minimal.
At Brazil's biggest biomedical facility, the Butantan Institute, scientists are working hard to develop a Zika vaccine – but even without a vaccine its director is not concerned about the virus affecting the Olympics, especially as its winter.
"This time of the year we don't have mosquitoes, it's too cold for them. So the number of zika infections and also dengue infections in the entire country came down and specifically in the southeast area of Brazil."
According to Rio's organizing committee president Carlos Nuzman some of the golfers who are not participating are using the zika virus as an excuse – when really it's the lack of prize money that's keeping them away.
British Golfer Danny Willett, who is participating, agrees, saying that with an already tight schedule for major international golf tournaments, there is not much appetite for the Olympics. "I think the Zika thing was a relatively simple way of having a little bit of an excuse there," he said.
Golf is back at the Olympics after a 22 year absence and, since so many top ranking players are staying away from Rio, a question mark hangs over whether the sport will feature in the Games in Tokyo in 2020. Rory McIlroy, Adam Scott, Louis Oosthuizen, Charl Schwartzel and Graeme McDowell, all top players, are conspicuous by their absence.
But the scare stories in much of the world's media don't seem to have put the spectators off – as many as half a million visitors are expected in Rio, although many are taking precautions.
"It should be fine as long as you are careful," said Xiao Zirou from Taiwan as she looked out over Rio from the iconic Christ the Redeemer statue.
Each Olympic Games seems to come with a fear attached – but which never actually materialises. In Beijing in 2008 it was pollution and in both London in 2012 and in Athens in 2004 it was the fear of terrorism. So this time around, could the Zika virus come to be regarded as the unrealized fear of Rio's Games?