Villagers in Syria take broken power lines into their own hands...literally
Comments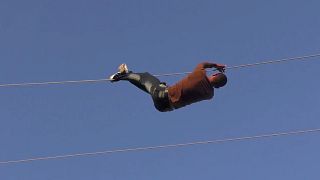 Men in the Mount Shashabo area of Hama province, Syria, have taken on the task of restoring power to their village.
In the mist of the conflict their country is facing the villagers have been climbing electricity poles – without harnesses – in order to fix power lines.
Their feat is made all the more impressive, and at the same time dangerous, owing to their lack of equipment.
Where this task would usually require some sort of lifting device, these men don't have even the most basic protective clothing or safety equipment.