One dead and five injured in knife attack in central London
Comments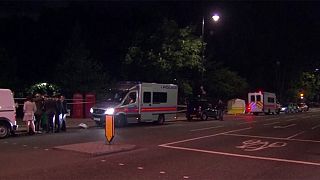 Police and forensic teams have cordoned off an area in central London after a woman was killed in a knife attack and five others injured.
The incident happened in Russell Square at around 10.30 pm local time on Wednesday evening.
The woman was treated at the scene, but later died.
A 19 year old man was tasered and is now in police custody.
Metropolitan Police Assistant Commissioner , Mark Rowley, said officers were following several lines of inquiry.
"Early indications suggest that mental health is a significant factor in this case, and that is one major line of inquiry. But of course at this stage we should keep an open mind regarding motive, and consequently terrorism as a motivation remains but one line of inquiry for us to explore," he said.
The attack happened on the same day it was announced that more armed police would be deployed on the streets of London.
Six hundred extra firearms officers are being trained with the first now operationally ready.
Speaking before the attack in Russell Square, the head of London's Metropolitan police, Sir Bernard Hogan-Howe , said that following recent attacks in Europe he wanted the British public to feel protected.
"Anyone who's been following events in Europe over the past few weeks will understand why we want to show our determination to protect the public. We are deadly serious about the protection that we are offering the people of London and we will never be complacent," he said.