London attack: Russell Square suspect is a Norwegian of Somali origin
Comments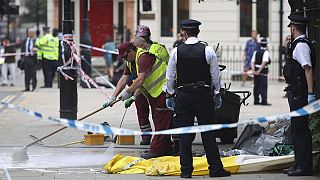 A 19-year-old Norwegian man of Somali ancestry remains in police custody in London on suspicion of murdering an American woman in her 60s after a deadly assault in Russell Square last night.
The Metropolitan Police's Assistant Commissioner told reporters that a police investigation had made significant progress, and its focus was narrowing. Mark Rowley said a search of the suspect's property revealed no signs of radicalisation.
"All of the work that we have done so far increasingly point the tragic incident as having been triggered by mental issues," said Rowley. "At this time we believe this spontaneous attack and the victims are selected at randomly. I stress that all the work that we have done so far does not suggest these factors and his background are not relevant to the motivation for his action."
---
AC Rowley: The suspect is a Norwegian national of Somali ancestry. No evidence of radicalisation or that the man was motivated by terrorism.

— Metropolitan Police (@metpoliceuk) August 4, 2016
---
Five other people were injured during the frenzied attack: two Australians, an American, a Briton and an Israeli.
The attack happened near the British Museum and close to the scenes of two of the 7/7 bombings 11 years ago.
---
Eyewitness footage of #RussellSquare incident from BBC correspondent BBCDomC</a> <a href="https://t.co/iuNa6cOfhI">pic.twitter.com/iuNa6cOfhI</a></p>&mdash; Keith Walker (KeithWalkerNews) August 4, 2016
---
"It was very reminiscent [of the 7/7 attack], it's the same area, the bus got blown up just a couple of hundred metres up the street there by the BMA [British Medical Association]," said witness Pol O'Geibheannaigh. "And yeah it was the first thing that crossed my mind, seeing that heavy police presence in this area. It just brought it all back, I mean it isn't that long ago. It was 11 years ago."
"I just came out for a cigarette and I saw someone laying down and people standing around," said another witness Philippa Bagley. "And a guy with a motorbike helmet balanced on his head just walking up and down. And the police and the ambulance came."
---
Good to see the Guardian contextualising claims of a mental health issue behind the Russell Square stabbings pic.twitter.com/BPQB9LFVRv

— Alastair Reid (@ajreid) August 4, 2016
---
Officers are continuing to interview witnesses #RussellSquare anyone with information that could assist please contact us on 020 8721 4868

— Metropolitan Police (@metpoliceuk) August 4, 2016