More armed police officers to guard London against 'severe' terrorist threat
Comments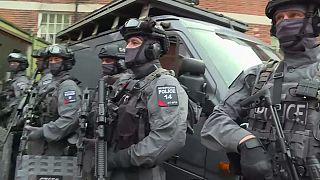 London's police force will put more armed officers on the streets of the British capital in order to deter would be attackers from carrying out acts of terror.
The threat to the UK from international terrorism is currently classed as severe, and although most of London's 31,000 police officers will remain unarmed, 600 more officers with firearms will be put on patrol, taking the total of armed police to 2,800.
Police specialist firearms officers throughout the #UK are highly trained and committed to keeping the public safe pic.twitter.com/6cE5vz3qz8

— Metropolitan Police (@metpoliceuk) 3 August 2016
The training of further firearms officers was announced earlier this year, and Metropolitan Police Commissioner Sir Bernard Hogan-Howe said he is increasing the number and the visibility of armed officers "to protect the public from all manner of threats".
Sir Bernard said: "We are going to see more [officers] armed, patrolling, on the streets in some of our iconic locations and around London… We want to deter the people who might attack us. We want to make clear that we are deadly serious about what is a serious challenge."
Speaking alongside him, Mayor of London Sadiq Khan said that following the attacks in Nice, Paris, and Munich, the British authorities need to make sure that the people of London feel "reassured and safe".
However, he went on to say that "the bad people recognise that our police service, security service and all of us will do our best to to keep us all safe".
Armed officers increased to protect #London against threat of terrorism https://t.co/eoJu1J0×5Lpic.twitter.com/hH5MArtD1U

— Metropolitan Police (@metpoliceuk) 3 August 2016
'When, not if'
Sir Bernard said in an article in the Mail on Sunday that the threat attack in London is such that it is "when, not if" Britain succumbs to an act of terror.
There are five terrorism threat levels in the UK and they are set by the Joint Terrorism Analysis Centre and the Security Service – MI5.
"Severe" – which suggests that an attack is highly likely – is one level below the highest threat level.