Firefighters battle major wildfire in US state of California
Comments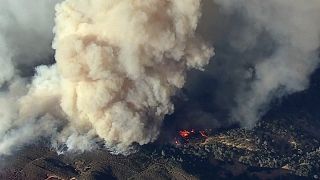 Smoke and ash have been raining down near Lake Berryessa in the US state of California where wildfires have been spreading.
Fire extinguishing planes, helicopters, and more than 700 firefighters have been battling a major blaze just north of San Francisco's Bay Area that's scorched 4,000 acres of grass and woodland since it erupted on Tuesday.
Officials have urged people to stay indoors because of thick smoke.
A long drought and extreme summer heat across the region have hampered efforts to quell the blaze.
The so-called Cold Fire is one of 30 major wildfires reported to have scorched about 700 square miles mostly in the west of the US.