US air strikes help Libyan forces tackle Islamic State in Sirte
Comments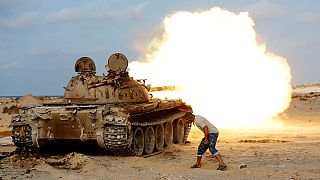 Libyan forces with support from US air strikes are continuing to fight against Islamic State in the coastal city of Sirte.
Islamic State took over the city a year ago; since then almost all of the 80,000 residents have fled.
Sirte is almost 500 kilometres east of the capital Tripoli. Further east is Benghazi where more than 20 people were killed by a suicide bomb attack in a residential area on Tuesday evening.
The US is involved in the fight against Islamic State in Iraq, Syria and Libya. Almost four years after the death of Gadaffi, internal power struggles and foreign interests have hindered any rebuilding of the country.
 President Barack Obama confirmed on Tuesday that it was in the US's national security interests to support Libya's United Nation's-backed government in the fight against Islamic State.