South Africa election threatens ANC's grip on power
Comments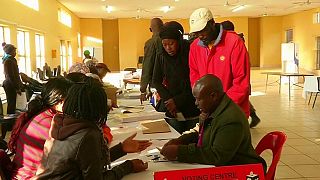 South African are voting with the ruling African National Congress party in fear of losing power for the first time since apartheid ended 22 years ago.
The local elections are being regarded as a referendum on the leadership of the ANC's Jacob Zuma, who voted early in Johannesburg.
President Zuma survived an impeachment vote in April after the Constitutional Court said he breached the law by ignoring an order to repay some of the $16 million in state funds spent on renovating his home.
At the time he argued that upgrades, which included a swimming pool, chicken run and cattle enclosure, were necessary security measures.
Zuma rejects all the corruption accusations, saying he is fit to lead, and the ANC continues to back him.
There are also reports of political murders in the run up to the election.
South Africa: Interactive map shows 20 political murders in run-up to 2016 local electionshttps://t.co/lYwxLa56U4

— Martin Plaut (@martinplaut) August 3, 2016
Anger is also rising in a country where one in four people are unemployed and the central bank expects zero growth this year.
The biggest threat to the ANC is from the Democratic Alliance, a mainly white party, which is likely to win in cities such as Port Elizabeth, Pretoria and Johannesburg.
Presidential elections are scheduled for 2019 but Zuma cannot stand because he is already serving a second term.