Thousands attend murdered priest's funeral
Comments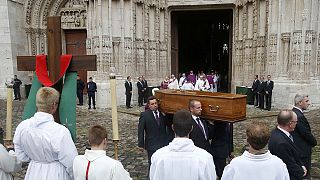 Thousands of mourners have attended the funeral mass of Jacques Hamel, the Catholic priest murdered in his own church by Islamic extremists.
The mourners, including French Interior Minister Bernard Cazeneuve, gathered in Rouen Cathedral amid very tight security. In a show of inter-faith solidarity Muslims and Jews also attended.
"Father Hamel's death was similar to that of Christ, unjustly convicted and put to death," Rouen's archbishop, Dominique Lebrun, said in his address.
The priest's sister, Roselyne Hamel, told the congregation how her brother had refused an officer's rank so as not give the order to kill during his military service in Algeria.
The 85 year old priest had his throat cut at the altar of his local church in Saint-Etienne-du-Rouvray by two 19 year old Muslim men who had pledged allegiance to Islamic State.
France has endured a succession of Islamic extremist attacks recently and a state of emergency has now been extended until February 2017.
It gives the police greater powers to pursue suspected extremists and the ability to detain them without charge for longer.
France has more Muslims than any other European state, accounting for around 7.6 percent of the population.