Texas passes 'campus carry' law allowing weapons at universities
Comments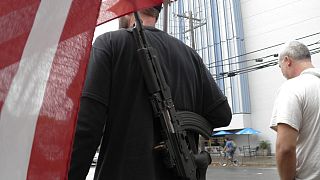 The US state of Texas has enacted a law allowing people to carry concealed handguns onto campuses.
The law came into force on the 50th anniversary of a mass shooting at the University of Texas.
"I've actually been very much looking forward to it since we found out about it," said Dakota Ives, a University of North Texas student. "I just feel safer, knowing that I'm able to bring my gun on campus. You hear a lot of these bad things, about these shootings and be able to better protect myself."
"I'm a little bit scared walking around campus now because you may never know what's going to happen now," said Jayesh Gautam, another University of North Texas student.
"I can see both sides honestly," said a student from the same school, Kate Thompson. "I really can and I truly feel that way and so I know that I am not someone who knows the answers to these things. I just hope that everyone handles it responsibly."
The campus carry law allows those over 21 with a concealed handgun permit to take guns into classrooms and other parts of the campus.
Flashback: University of Texas Sniper
---
On the same day campus carry became Texas law, UT marked 50 years since the tower shooting https://t.co/uFjvkaAfZDpic.twitter.com/0O2MTaunEv

— Dallas Morning News (@dallasnews) August 2, 2016