South Korea suspends Volkswagen sales over emissions scandal
Comments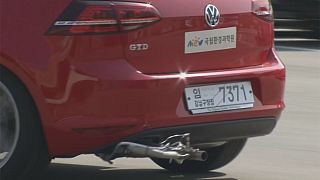 South Korea's government has suspended sales of most Volkswagen models there and fined the carmaker 17.8 billion won (14.4 million euros) for allegedly forging documents on diesel engine emissions or noise-level tests.
Before they can go back into showrooms those cars will have to be re-certified, which will take at least three months.
"It usually takes three months for vehicle certification, but this may take longer for Volkswagen, as we will take thorough steps," environment ministry director Hong Dong-gon told reporters.
It is a fresh blow to VW as it struggles to overcome the global repercussions of its emissions-test cheating scandal and to rebuild its battered image.
Volkswagen described the ruling as "most severe" and said it was considering a legal challenge.
The company reported a 12 percent drop in quarterly profit at its main passenger car division last week, showing the challenges it still faces since admitting in September to using software to falsify pollution tests on some diesel cars.
In addition to billions of euros in costs related to the scandal, it is also tangled in legal action in the United States, Germany, South Korea and elsewhere.
South Korea has taken a particularly tough line, with prosecutors raiding Volkswagen's Seoul offices and arresting an executive in June.