Citroën CEO talks diesel demand, #MeToo and trade wars
Comments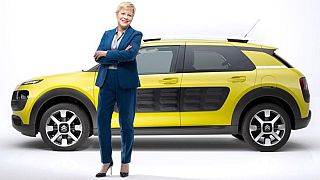 The automotive industry's C-suites have flocked to Switzerland for the annual Geneva International Motor Show, unveiling new cars that promise to pip its previous years. Euronews sits down with Citroën CEO Linda Jackson, who talked not only about the premiere of the company's popular Berlingo, but also how the latest diesel scandals will affect Citroën, the automotive industry in the age of #MeToo, and how trade wars will impact car making.
Having this protectionism, whether it be from America, whether it be from China, is not conducive for business — for any of us

CEO, Citroen
Is diesel dead?
"It's not going to be the manufacturer who says whether diesel will be dead. It's the customer who's going to choose," says Jackson.
Citroën, which is part of Groupe PSA, offers up to three versions of a vehicle: petrol, electric and diesel. But in the aftermath of the Volkswagen diesel emissions scandals and an appetite for more environmentally friendly cars, Citroën has already noticed interest in diesel has waned.
"With all of the media exposure, the governmental exposure, the political soundbites on diesel — we can see diesel is reducing. And the only thing you can do as a manufacturer is make sure that you've got viable options for your customers."
"We've seen a reduction in our diesel. I think it was something like 48%-47% diesel, whereas if you go three, four or five years ago we would've been up as high as 60%-70%. So that's the customer choosing," she says.
Jackson adds that there are no plans in the near future to phase out diesel within PSA, but said it would focus on making all if its cars electric.
"Eighty percent of our vehicles will have an electric version by 2023 … and 100% by 2025," she says.
Trade wars and its impact
When President Donald Trump announced the US would impose a 25% tariff on imports of steel entering the country, a chorus of condemnation from EU leaders, including the EU Commissioner for Trade considering a tax on Levi's, soon followed suit. Analysts have speculated over how the row could affect the automotive industry, but, for Jackson, there was no need to ring the alarms just yet.
But this pragmatism should not suggest the Citroën CEO is without opinion on trade wars.
"Having tariffs or quotas is restrictive, it's basically protectionism in another way," says Jackson.
"Having this protectionism, whether it be from America, whether it be from China, is not conducive for business — for any of us.
"Now that's personal opinion, it's not the view of PSA. But this sort of short-termism about protecting people in the long run, I'm not sure it's right for the world. I'm not sure it's right in terms of making sure that the world manages to trade with each other."
"At the end of the day all you're going to have is, as you say, trade wars. You'll have tariffs and quotas from the US and then you'll have them from the European Union, and then I'm sure there will be something against China … and how does that help?
"It's not just about trade is it? It's also about protecting the people who live in one region from another."
#MeToo in the auto business
Several companies, including Ssangyong and Nissan, have pledged to end so-called booth babes ahead of the GIMS opening — a move made, uncoincidentally, in the age of the #MeToo movement.
"The automotive industry has always been a little bit macho, let's be honest. If I had a euro or a pound for how many times I've been asked what it's like being a woman in an automotive world … then I'd be a rich woman," she says.
But the Citroën CEO, who was named the most influential Briton in the global car industry, says the industry is changing with the times.
"The automotive industry is becoming less macho, it's becoming more diverse, there are more women going into the industry. Fifty percent of my customers are women."
If you look at the Citroën stand, we have a balance between male and female and I think that's important. What I would like to see, in terms of the automotive industry and the experience at a dealership, for example, is to have more females selling cars … because it's true: women prefer to buy from females."
Jackson welcomes calls for ending discrimination, but stops short of being drawn wholly into the #MeToo debate.
"I try to move away from the sort of politics of it and try to encourage that there be more women in the industry and to have more diversity, because we add something."
"There are no glass ceilings. You can get to the top. But you do it by your hard work."
"I've been very, very fortunate. I've not seen any of the classic harassment or discrimination in my career. That doesn't mean I haven't had to work harder than a man to get here.
Her advice for women looking to succeed it in the auto industry?
"The biggest thing is to have confidence in yourself. But you have to stand up for yourself and be confident. And unfortunately, we do sometimes have to work harder to prove ourselves," she says.
"Have confidence."