Armed Israeli security forces confiscate eight-year-old girl's bike
Comments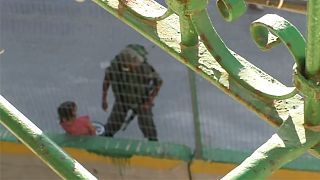 Human rights organization B'Tselem has released a video of what it claims shows armed Israeli security forces confiscating the bike of an eight-year-old girl on July 25.
The incident took place in Hebron, West Bank, along a fence erected on al-Ibrahimi street by Israeli forces.
The girl can be heard screaming in the video as an armed man, which B'Tselem identifies as a member of the Israeli Border Police, approaches her.
A second armed individual then appears and the girl flees, with the men later throwing her bike into nearby bushes.
The human rights organisation has said that Israeli security forces have reserved access on the road where the encounter took place to settlers, who have occupied the centre of Hebron since 1967.