State executions: a fate worse than death
Comments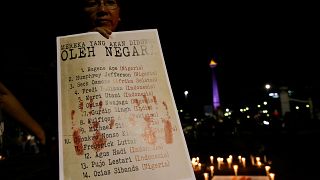 Indonesia went ahead with the execution of four drug offenders early on Friday morning. Last-minute petitions were denied. Another 10 more are due to be executed over the coming days.
This is the third round of executions following a four-year moratorium on capital punishment in the south-east Asian country.
The deaths bring the total to 22 under the reign of President Joko Widodo as part of his zero-tolerance drug policy.
Of this latest round, Amnesty International said: "If the executions are not halted, President Widodo will have implemented the death penalty more times than in any South East Asian country, and more often than any Indonesian leader this century."
Last year Indonesia executed 14 people for drug-related offences. But how does this figure stack up against other countries?
Kill fewer, kill more cautiously
China was the biggest offender in 2015. Ammendments to its criminal law in 2014 reduced the numbers of crimes punishable by death from 55 to 46.
This was in line, according to Amnesty International, with Beijing's wish to "kill fewer, kill more cautiously".
Despite this, the country still managed to execute more than 1,000 of its citizens in 2015. That adds up to 0.72 kills per million.
The country that racks up the most executions per million by far and away is Iran. In 2015 the Middle Eastern country executed 977 people, or the equaivalent of around three people every day.
For each million of its population Iran executes 12 people. Amnesty described this as "staggering".
"The Iranian authorities should be ashamed of executing hundreds of people with complete disregard for the basic safeguards of due process," said Said Boumedouha, Former Middle East & North Africa Deputy Director at Amnesty International.
Saudi Arabia shores up the second position by account of its relatively small population and high execution rate. Its state sanctioned killings totalled 158 last year, but this accounts for five people for each million of its population.
Somalia, by contrast, put to death 25 last year. But taking into account its relatively small population, this works out to two deaths per million.
Pakistan carries out far more with 326 executions but with a population of more than
190,000,000 this is the equivalent of one death per million.
In comparison to this, Indonesia's 14 executions meant it killed 0.05 people per million.