Jokowi on path to become 'most prolific executioner in recent Indonesian history' - Amnesty International
Comments
By
Sarah Taylor
with
Amnesty International, Reuters, United Nations, CNN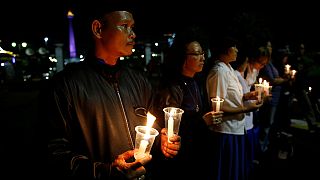 A local man and three Nigerians have been killed by firing squad in Indonesia for drug-related crimes.
According to rights group Amnesty International, the total number of people executed in President Joko Widodo's two-year term in office now stands at 22 – one higher than in six years under previous leader Susilo Bambang Yudhoyono rule.
Yudhoyono's ten years in power included a four-year moratorium on executions, which ended in 2013.
Condemnation
Amnesty has strongly condemned the use of capital punishment.
It says the families of Indonesian Freddy Budiman and Nigerians Seck Osmane, Humphrey Jefferson Ejike and Michael Titus Igweh were not given the 72 hours legally required to notify relatives of an execution date.
Ejike is said to have applied for clemency from the president days before he was killed. According to Amnesty, "No execution must be carried out while legal or clemency procedures are pending."
The use of capital punishment provoked the United Nations to issue the following statement:
"The United Nations opposes the use of capital punishment in all circumstances. Under international law, if the death penalty is to be used at all, it should only be imposed for the "most serious crimes," namely those involving intentional killing," said spokesperson Farhan Haq.
Indonesia executes three Nigerians, one local, despite protests https://t.co/XiOuwl459Apic.twitter.com/H6BiB9sbpv

— Reuters Top News (@Reuters) July 29, 2016
President Widodo signed a tweet a matter of hours after the four executions, in which he said "Our number one priority is to work best for people."
Prioritas nomor satu adalah bekerja yg terbaik untuk rakyat -Jkw

— Joko Widodo (@jokowi) July 29, 2016
Taking a strong stance on drug offences
When Widodo took office in 2014, he vowed not to compromise on sentencing for drug convicts.
In a CNN interview marking his first 100 days in power, the president remarked:
"Imagine every day we have 50 people die because of narcotics, of drugs.
"In one year, it's 18,000 people who die because of narcotics."
In 2015, Indonesia's National Narcotics Agency said up 33 people die in the country as a result of drugs each day.
Amnesty's Director for South East Asia and the Pacific, Rafendi Djamin, claims the leader, known as President Jokowi, could become "the most prolific executioner in recent Indonesian history."
Ten further executions of locals and foreign nationals are expected to be carried out this weekend (July 29-31, 2016). If they go ahead, Jokowi will have implemented capital punishment more times than in any other South East Asian country.
Djamin made a statement accusing the Indonesian authorities of "proceding with indecent haste."
Ahead of Friday's (July 29) executions, four clemency appeals had still to be heard.
"There are serious fair trial concerns about many prisoners' cases," added Djamin.
High profile characters have come out in support of Amnesty. Founder of the Virgin Group Richard Branson, for example, called on the president to halt executions.
More executions planned in Indonesia tonight. Call on President @jokowi to halt them: https://t.co/uvZ99ZrKmvpic.twitter.com/oi3Ptvjtdi

— Richard Branson (@richardbranson) July 28, 2016
Local opinion
In the capital, Jakarta, the feeling appeared to be a world away from that of rights groups and the UN.
Hartono, a local man, told the press:
"If someone is a proven drugs trafficker and he ruined a generation of a nation, he deserves to get the death penalty. But it must depend on the case. If it is only human trafficking, then they do not deserve such strong punishment."
Manto, a newspaper seller, also agreed with the death penalty.
"I think there is no need to stop this kind of punishment. I think we will still have to enforce it depending on what is needed."
Local resident Muhammad Mu'min said it was a question of respect on the international stage.
"Not only Jokowi but Indonesia will be respected by the world if we uphold the death penalty properly."
Fellow local Fauzi agreed.
"We will be respected if we can do it properly just like in Saudi Arabia, where the death penalty is implemented, too."