German-Turkish relations 'bumpy' after Erdogan speech ban
Comments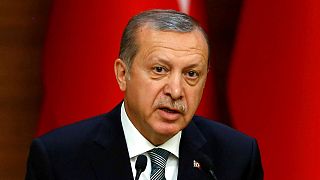 The handling of a pro-Erdogan rally in Cologne over the weekend has put further strain on already tense relations between Turkey and Germany.
On Monday, Ankara summoned Berlin's deputy ambassador. It's not happy about how authorities handled a pro-Erdogan rally in Cologne this weekend.
"We've had phases in the past that were bumpy and other phases when things went extraordinarily well. Now we have a bit of a bumpy phase," the German foreign ministry's spokesman Martin Schaefer told a regular news conference.
"But I think the relations between Germany and Turkey are so close and so deep… that I am quite confident we will manage again to overcome this not so easy phase of bilateral relations with Turkey," he added.
Tensions between Ankara and Berlin have risen since the attempted coup in Turkey last month.https://t.co/VyBYKqglvL

— Financial Times (@FT) August 1, 2016
At issue is a decision by Germany's top court to ban Erdogan from making a video address to demonstrators rallying in Cologne on Sunday (July 31).
At least 20,000 people rallied there to show their support for Erdogan after last month's failed military coup. German authorities feared having the president address the crowd would only fuel tension within the country's large Turkish diaspora.
"How come German officials, who talk about freedom of expression, prevent our president from joining an authorized and uneventful rally via teleconference – in other words, prevent the right to freedom of expression," said Turkish Deputy Prime Minister Numan Kurtulmus.
"This decision makes no sense."
Turkey condemns Germany's decision to ban RT_Erdogan</a>&#39;s video address at <a href="https://twitter.com/hashtag/Cologne?src=hash">#Cologne</a> rally <a href="https://t.co/ApMAaLHzx1">https://t.co/ApMAaLHzx1</a> <a href="https://t.co/d3Of2rKqhM">pic.twitter.com/d3Of2rKqhM</a></p>&mdash; dwnews (dwnews) August 1, 2016
Turkey's political civil war is spilling over into Germany https://t.co/ZLAzwQbkZSpic.twitter.com/h1TwwM2NfP

—

POLITICO

Europe (@POLITICOEurope) August 1, 2016