Germany / Turkey : A Diplomatic Tightrope walk
Comments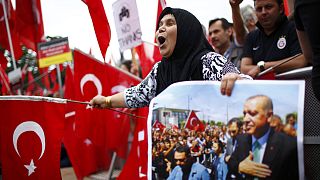 Tensions are building between Ankara and Berlin. A pro-Erdogan demonstration in Cologne saw the latest in a series of incidents.
Organizers are now saying they expect up to 50,000 protesters at #Erdogan rally in Cologne later today. pic.twitter.com/f6923LPpaY

— Jan Bruck (@jan_bruck) July 31, 2016
Erdogan censored
At the demonstration, a live link-up with the Turkish President was called off as authorities feared an escalation in tensions. Erdogan's statement was read to the demonstrators, but the ban has sparked sharp criticism in Turkey.
Turkish #EU minister blasts top German court for banning Erdogan video call in #Cologne democracy rally pic.twitter.com/lNwmizFBxT

—

ANADOLU

AGENCY

(

ENG

) (@anadoluagency) July 31, 2016
Minister of Justice Bekir Bozdag wrote on twitter, that banning Erdogan's live broadcast was "impolite and unlawful " and that the decision was "a shame for democracy and justice." According to Bozdag, Germany should never again use terms like "constitutional state, human rights and freedom" when it comes to Turkey.
The Turkish reaction in Germany
Many Germans of Turkish origin are pro- Erdogan, and see the German government and media's stance on the Turkish purge as unfairly critical. Many even compare Gülen and those allegedly behind the Coup with the so called Islamic State.
GERMANY – Controversy ahead of pro-Erdogan rally in Cologne https://t.co/6aARE5hZjupic.twitter.com/5DmMaYiYR2

— Voice of Europe (@V_of_Europe) July 27, 2016
Demonstrator Ali Uzun told reporters:
"Many in the German media do not believe that what's going on in Turkey is because of Gülen. And I would recommend that they better collect their information before they issue some nonsense without any information."
Germany is home to around 3 million people with at least one Turkish parent.
In contrast to the Pro Erdogan demonstrators, 80% of Germans believe the purge is inappropriate
The death sentence
The possibility of the death sentence being reintroduced has been yet another contentious point as a spokesperson for the German government made clear:
"Germany and the EU member states have a clear position on that: We categorically reject the death penalty. A country that has the death penalty can't be a member of the European Union and the introduction of the death penalty in Turkey would therefore mean the end of accession negotiations."
Draconian measures for democracy
According to Erdogan, strong measures are justified in ensuring democracy in Turkey is upheld … While for his German critics, there is already little democracy to protect.
The Armenian genocide
A bitter dispute erupted last June and resulted in delegates receiving death threats after a vote in the Bundestag recognised the Armenian genocide which Turkey denies.
Merkel's not laughing
Even before this, German comedian Jan Böhmermann put strain on relations and could have put the EU-Turkish refugee pact in jeopardy when he broadcast an "abusive and libellous" poem on Erdogan. Angela Merkel tried to smooth things over with a phone call but the Turkish President still began legal proceedings.
Meistgeklickt: Vom Partner zum Sorgenkind: Wie Merkel von Erdogan abrückt https://t.co/dM1SDUbIyOpic.twitter.com/msBPJNUZRT

— n-tv (@ntvde) July 21, 2016
What next?
How can Turkish-German relations be salvaged? The next test will be if Turkey pursues its request for the extradition of alleged Gülen-supporters from Germany. A move which is likely to face staunch opposition from many leading German politicians.