Tokyo elects its first female governor
Comments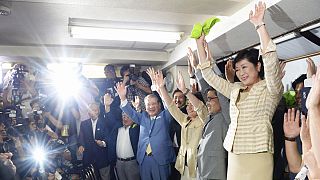 Tokyo has elected Yuriko Koike as its first female governor, according to widely trusted exit polls.
Koike served as Environment Minister and briefly Defence Minister, and has been likened to Condoleezza Rice due to her conservative and "hawkish" outlook. Some Japanese media have suggested that she might become Japan's first female Prime Minister. Her election to the governorship of the capital, and over 13 million people, could be a stepping stone to that position.
The 64-year old is a member of Prime Minister Shinzo Abe's Liberal Democratic Party, but did did receive party support as she did not seek approval from the local division of the Party before announcing her candidacy. The party instead put up another candidate, former bureaucrat Hiroya Masuda.
But the election drama did not stop there. A former governor was accused of sexism when he declared "We cannot leave Tokyo to a woman with too much make-up". But Koike shrugged off the remark, saying she is "used to it", in Japan's heavily male-dominated political scene.
And her position on the right, which led to comparisons with the former US Secretary of State Rice, has not always been seen as a positive. One female politician, former leader of the Social Democratic Party Mizuho Fukushima said she would not vote for her simply because she is a woman, as "it is meaningless when she is dressed as a woman, but inside is a hawkish man".
Congrats Yuriko Koike ecoyuri</a> former Environment Minister of <a href="https://twitter.com/hashtag/Japan?src=hash">#Japan</a>, elected as first woman governor of <a href="https://twitter.com/hashtag/Tokyo?src=hash">#Tokyo</a>. <a href="https://t.co/1b5uKBl9sc">https://t.co/1b5uKBl9sc</a></p>&mdash; Saber H Chowdhury MP (saberhc) July 31, 2016
The gubernatorial election was held after previous Tokyo governor Yoichi Masuzoe was forced to step down due to his misuse of public funds. He denied breaking any laws, but admitted ethical lapses in his spending.
He is alleged to have bought holidays, art and even comic books for his children with the government funds. The scandal was amplified by the fact that Masuzoe stood on a promise of a scandal-free administration.
One of Koike's most important tasks will be to oversee the 2020 Olympics, and and the 2019 Rugby World Cup- an event taking place in Asia for the very first time.
At the beginning of her campaign, Koike said "The Olympics are right in front of us. I want to use them as a chance to build a new Tokyo for beyond 2020".
The Olympic preparations have been hit by several scandals and delays. Naoki Inose resigned as Governor in 2013 over a funding scandal, just three months after the Games were given to the Japanese capital.
The Tokyo 2020 logo has also been at the centre of controversy, and was eventually scrapped as the designer was found to have had a history of plagiarism.
A new design will now be approved by the organising committee.
The new governor will travel to Rio de Janeiro at the end of August to attend the closing ceremony, and accept the Olympic flag as the next host.