One dead, five injured in two isolated shootings in Austin, Texas
Comments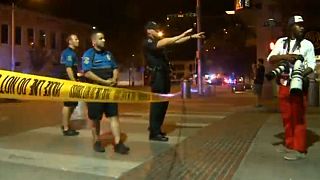 Emergency service officials in Austin say a woman in her 20s has died and at least five people have been injured in isolated shootings in the Texas capital. The as-yet-unnamed female victim was pronounced dead on the scene, according to the Austin-Travis County Emergency Medical Services (ATCEMS) agency and Chief Manley of Austin Police.
UPDATE 4: UPDATE 2: Multi GSW's @ 208 E 6th St: ATCEMS Command advising 4 total victims, 3 txpt'd to UMCB & 1 ~30's F pronounced DOS. MTF

— ATCEMS (@ATCEMS) July 31, 2016
Police in the southern US city confirmed separate shootings within "close proximity of each other in location and time" left multiple victims. Both scenes are said to be secure, but authorities have urged people to stay away from the downtown area. A call for information has since been put out.
If anyone has video or info specifically about the shooting on 6th street email APD at police3@austintexas.gov -PIO1

— Austin Police Dept (@Austin_Police) July 31, 2016
Police are still looking for the first shooter. His identity and whether or not he is still armed are unknown. The second has been hospitalised with non-life-threatening injuries.
Both the Austin Police Department and ATCEMS have been publishing updates on Twitter.
Update: separate shootings within the same area. Both scenes are secure at this time. PIO responding to identify staging area.

— Austin Police Dept (@Austin_Police) July 31, 2016
#ATCEMSMedics advise to AVOID the downtown area of 6th street, Multiple incidents occurring including multiple pt's w/GSW's. MTF

—

ATCEMS

(@ATCEMS) July 31, 2016
What happened?
The Austin Police Department confirmed the following details in a press conference shortly after the shootings.
- Police first became aware shots had been fired at 2.17 am local time (9.17 am CET).
- A woman was reported to have been shot in the 200 block of East 6th Street.
- Within the next minute or two, police received multiple calls of shots being fired on 6th Street. Officers reached the scene immediately.
- Police could hear gunfire and called in their own reports of shots fired.
- As the officers arrived on scene, they could see additional victims.
- Five individuals were shot in the incident on 6th Street. A woman in her 20s was confirmed dead on the scene.
- Three other people were taken to University Medical Center Brackenridge with serious, but non-life-threatening injuries. One further individual refused transport. All those injured were female.
- The scene was "chaotic" due to people leaving the area's bars at the time, but paramedics were able to reach the victims immediately to provide medical assistance.
- Police believe the shooting started as a disturbance between individuals. As this grew heated, one person is thought to have pulled out a gun and started shooting into a crowd of people.
- At 2.24 am reports were called in of an assault in a parking garage in the 800 block of Trinity, within close proximity of the initial crime scene.
- In this incident, a male in his 20s pulled out a weapon and fired it at another person. Police are not aware of anyone being struck by gunfire. Passersby reportedly engaged with and disarmed the suspect.
- The suspect was then transferred to the Brackenridge hospital to be treated for non-life-threatening injuries sustained as he was being disarmed.
- Police were initially concerned someone was engaging in active shooter tactics, but later concluded this was not the case.
- The shootings are being treated as unrelated, isolated incidents.
- Multiple witnesses are being interviewed by the police.
- One person was noted as a person of interest, but his "status is undetermined," so he is merely being questioned, police say.
- Descriptions of one of the suspects vary, but police say they are looking for a light-skinned black or hispanic male in his 20s.
- Authorities are calling for anyone with mobile phone or video footage of either shooting to present it to the police.
LIVE on #Periscope: Briefing on downtown shooting in ATX. https://t.co/e8rB2KldPe

— Austin Police Dept (@Austin_Police) July 31, 2016