Freefaller Luke Aikens dives full throttle into the record books
Comments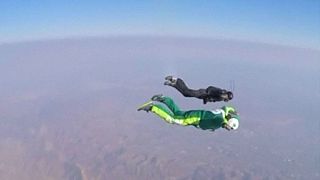 American Luke Aikens have dived into the record books by becoming the first person ever to leap from twenty five thousand feet without a parachute or wing suit.
"I mean, I'm almost levitating. It's incredible, this thing that just happened. I mean, the words I want to say I can't even get out of my mouth," he enthused. "It was… All these guys, everybody who made this thing happen, helping me do this, it is awesome."
A skydiver by profession, he has eighteen thousand jumps under his belt.
The 42-year-old free fell at speeds of up to 193 kilometres per hour over Simi Valley, California, and finished with a perfectly-judged landing.
After two minutes of hurtling towards the ground, he landed squarely in the centre of a 30×30 metre net, where his wife and young son were waiting to congratulate him.