'Cruelty did not end at Auschwitz' - Pope Francis reflects on the past and present
Comments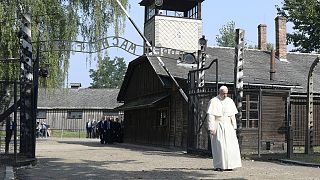 On the third day of his trip to Poland, Pope Francis chose to honour the 1.5 million people killed in Auschwitz with silent prayer, only breaking the hush to greet those who survived the Nazi death camp.
Cruelty did not end at Auschwitz and Birkeneau. Today, too, people are tortured.
This he did near a site called the 'Wall of Death,' where prisoners were executed by firing squad.
He is the third consecutive pontiff to visit the site, but the first not to have lived through the Second World War and the only one to meet former inmates.
Later on his World Youth Day tour, he visited a children's hospital in Krakow, where he blessed and gave an address to some 50 young patients and their parents.
Holding the gathering in Poland held a special significance for much of the population – almost 90 percent of Poles identify themselves as Roman Catholics.
The pope ended the day with a heartfelt plea to the youths gathered in Krakow, bringing to light the plight of modern-day refugees.
"Cruelty did not end at Auschwitz and Birkeneau, also today, today people are tortured."
During a visit to a migrant centre in Greece in April, 2016, Pope Francis paved the way for 12 Syrian Muslim refugees to leave and start new lives in Italy.