Erdogan accuses US officials of siding with Turkey coup plotters
Comments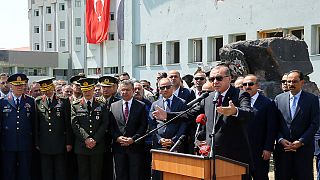 Some 99 military top brass have been promoted in Turkey in an overhaul of the country's armed forces following this month's failed coup.
You are standing next to the coup plotters

Turkish President
Many other men in uniform, accused of involvement in the uprising, have been dismissed or detained.
The man at the top of President Recep Tayyip Erdogan's 'wanted list' is the US-based cleric Ankara claims masterminded the coup attempt.
And with no sign yet of the United States extraditing the Muslim preacher and scholar Fethullah Gulen, who denies any involvement, Erdogan lashed out at Washington and the West.
"Instead of saying 'thank you' to this state which repelled the coup'd'état – 'thank you' in the name of democracy – you are standing next to the coup plotters. What is more the plotter of this coup is in your country," said Erdogan on Friday in Ankara.
US general is on side of coup plotters: Erdoğan https://t.co/ra4io4Qjj5pic.twitter.com/KIPALtoghL

— Hürriyet Daily News (@HDNER) 29 juillet 2016
Erdogan's fury has been stoked by suggestions from US intelligence officials that purges in the Turkish military are harming cooperation in the fight against ISIL.
Not so, insists Turkey's Foreign Minister Mevlut Cavusoglu, who shrugged off the concerns, telling reporters on Friday that Turkey's armed forces, "cleansed" of their Gulenist elements, would prove more "trustworthy … and effective" allies against so-called Islamic State.
Cavusoglu also denounced European countries for trying 'to give us lessons in democracy".