Obama gives Clinton ringing endorsement at US Democratic Convention
Comments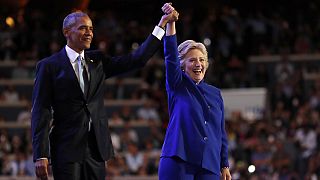 President Barack Obama, the star turn on the third day of the US Democratic Party's national convention, slammed Republican candidate Donald Trump's vision of the United States as being under siege from illegal immigrants and terrorism.
There was a rousing welcome in Philadelphia as the current occupant of the White House appeared alongside the party's new presidential candidate and gave Hillary Clinton a ringing endorsement in his speech.
Obama and Clinton were rivals in the 2008 campaign for the Democratic nomination. After winning the election, the country's first black president appointed Hillary Clinton his secretary of state. Speaking on Wednesday night, Obama said he looked to her to carry on his legacy.
"Black, white, Latino, Asians, native Americans, young, old, gay, straight… men, women, both with disability pledging allegiance under the same proud flag to this big bold country that we love. That's what I see, that's the America that I know. And there is only one candidate in this race who believes in that future, has devoted her life to that future, a mother and a grandmother who would do anything to make our children thrive. A leader with real plans to break down barriers and blast through glass ceilings and widen the circle of opportunity to every single American. The next president of the United States: Hillary Clinton," Obama told the party's supporters.
The president also described Clinton as being uniquely qualified for the White House.
"No matter how much people try to knock her down, she never, ever quits. That's the Hillary I know. That's the Hillary I've come to admire. And that's why I can say with confidence there has never been a man or a woman – not me, not Bill – nobody more qualified than Hillary Clinton to serve as President of the United States of America," Obama went on.
ANALYSIS: Hope is handed off, as POTUS</a> makes way for <a href="https://twitter.com/HillaryClinton">HillaryClintonhttps://t.co/bx6L0GCpvlpic.twitter.com/AhtqYJPdpR

—

ABC

News Politics (@ABCPolitics) July 28, 2016
Republicans have painted Clinton as a Washington insider who would represent a "third term" for what they view as failed policies under Obama, who was elected to a second term in 2012.
The president set out an alternative portrayal of the United States as it is today, as he saw it, compared to the image struck by Donald Trump at last week's Republican convention.
Citing "American values", Barack Obama said he was more optimistic about the country's future than ever before.
"America has changed over the years. But these values my grandparents taught me – they haven't gone anywhere. They're as strong as ever; still cherished by people of every party, every race, every faith (…) That's why anyone who threatens our values, whether fascists or communists or jihadists or homegrown demagogues, will always fail in the end," he said to applause and cheers from the audience.
Earlier US Senator Tim Kaine who said Trump was "a one-man wrecking crew", accepted the nomination to become Clinton's running mate.
The convention now awaits Clinton's formal acceptance of the Democratic party's nomination to run for president which takes place on the fourth and final day in Philadelphia.
Democrats have buttressed Clinton with a star gathering of current and past party notables at this week's convention.
By contrast, many prominent Republicans were absent from the party convention that nominated Trump for the White House last week.
But Trump got a boost in opinion polls from his convention. He had a two-point lead over Clinton in a Reuters/Ipsos opinion poll released on Tuesday, the first time he has been ahead since early May.