Turkey orders another 47 journalists detained in post-coup crackdown
Comments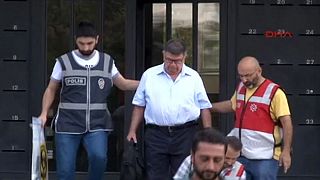 Turkey ordered another 47 journalists detained on Wednesday as part of a sweeping crackdown in the wake of the failed July 15 military coup.
Those detained are columnists and other staff of Zaman newspaper, which authorities raided earlier this year over its ties to exiled cleric Fethullah Gulen, the arch-enemy of President Recep Tayyip Erdogan. The paper was seized by the state in March and it now toes the government line.
However, the list includes journalists, such as Sahin Alpay, known for their leftist activism who do not share the religious world view of the Gulenist movement. This has fuelled concerns that the investigation may be turning into a witch-hunt of the president's political opponents.
Arrest of Şahin Alpay in Turkey very worrying. Hard to see that he ever supported any military coup. pic.twitter.com/vjDZGYmqtl

— Carl Bildt (@carlbildt) July 27, 2016
Arrest warrants for another 42 journalists were reportedly issued on Monday, 16 of whom have so far been taken into custody.
Turkish special forces were also hunting in hills around the Mediterranean resort of Marmaris for a group of 11 commandos thought to have tried to capture or kill Erdogan on the night of July 15.
Turkey has suspended, detained or placed under investigation more than 60,000 soldiers, judges, teachers, journalists and others suspected of ties to Gulen's movement since the July 15-16 coup, attempt which was staged by a faction within the military.
Turkey's Army General Staff said 8,651 soldiers suspected of belonging to the Gulen network took part in the coup attempt – or about 1.5 percent of the armed forces, broadcaster NTV reported.
#Turkey crackdown by the numbers: Statistics on brutal backlash after failed coup. https://t.co/AWGVYFknPrpic.twitter.com/majzBu9rXq

— AmnestyInternational (@amnesty) July 27, 2016