'Arrest warrants issued' for journalists after Turkey attempted coup
Comments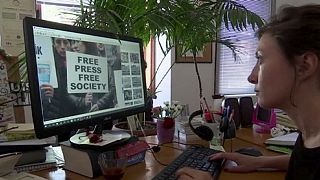 Prominent Turkish commentator and former politician Nazli Ilicak is among 42 journalists facing arrest after the authorities issued warrants for their detention, according to local media.
Some worked for the Ozgür and Meydan news websites, already closed by the government in the wake of the failed coup attempt.
A Fox News correspondent, Ercan Gün, is also said to be on the list.
The arrest warrants are the latest move in a widening crackdown that has also seen thousands of soldiers, judges and civil servants detained or placed under investigation.
Forty more military staff in Istanbul were held yesterday.
The same day saw tens of thousands of people take part in a pro-democracy rally in the city's Taksim Square, organised by the opposition CHP party. Pro-government supporters also took part in a rare show of unity.
A speech by the main opposition leader was broadcast live on TV.
"We will monitor the outcome (of the state of emergency). We will definitely raise our voices if people's rights and freedoms are curbed and former practices are implemented. We are monitoring (what's happening in) practice for the moment. But as for Fethullah's (attempted) coup, our country avoided big trouble," said CHP supporter Mustafa Zulkadiroglu.
The exiled cleric Fethullah Gulen has been blamed by President Erdogan and his followers for trying to overthrow the government. He denies the charge.
The crackdown has brought allegations by Amnesty International of beatings, torture and rape in detention centres.
#Turkey credible reports coming in of #torture and #rape. Will #Europe still call it a "safe country"?https://t.co/eCZHniOGBb

— Amnesty EU (@AmnestyEU) July 25, 2016
Reports in Turkish media also say the state-run Turkish Airlines has sacked more than 100 employees, including management and cabin crew, as part of a purge at state institutions to root out supporters of the abortive coup. The airline declined to comment, while other reports said the dismissals were due to "inefficiency".
"State of emergency will ensure the acceleration of democratization process" https://t.co/TwtcqQGU9ipic.twitter.com/LaX5YLlipm

— Turkish Presidency (@trpresidency) 25 July 2016