'A dark day for Turkish democracy': violent clashes follow Zaman takeover
Comments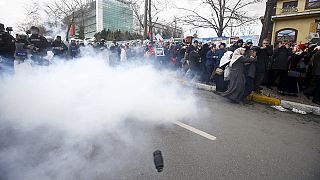 Turkish police have bombarded hundreds of protesters with tear gas and rubber bullets in an attempt disperse crowds outside the Zaman newspaper offices in Istanbul.
A dark day for Turkish democracy.
The country's top-selling newspaper reopened on Saturday (March 5) following a state takeover and police raid. But the staff has experienced a shake up, with reports of editor-in-chief Abdulhamit Bilici and columnist Bulent Kenes being sacked.
Sevgi Akarcesme, a top editor at Zaman's sister publication, Today's Zaman, labelled it "a dark day for Turkish democracy" and said most media in the country were not providing full coverage of the takeover through fear of experiencing the same fate.
A state-appointed trusteeship has now been ordered to take over both newspapers and the Cihan news agency — all of which have ties to a US-based cleric who the government accuses of plotting a coup.
Fresh Riots Between Police and Protesters in Istanbul #Zaman#todayszamanhttps://t.co/qo0ftWLE1Epic.twitter.com/DgvoeGAKhQ

— teleSUR English (@telesurenglish) March 5, 2016
Press freedom
The incident at Zaman has further heightened concerns about press freedom in Turkey.
Zaman reader Ahmet Aldir was among those protesting.
"We are all humans after all and every human being matters," he said. "Different opinions should be voiced in a society. That's my opinion. A single voice does not mean anything. So, we came here to show different voices and to support Zaman newspaper. We are sorry. This is not the country we are hoping for. We are concerned."
Rights groups and European officials have also criticised the takeover, while the US State Department labelled the incident "the latest in a series of troubling judicial and law enforcement actions taken by the Turkish government."
#Turkey police fire plastic bullets at opposition paper rally. By ozannkosee</a> <a href="https://twitter.com/hashtag/AFP?src=hash">#AFP</a> <a href="https://t.co/4tR1IhS4lh">pic.twitter.com/4tR1IhS4lh</a></p>&mdash; AFP Photo Department (AFPphoto) March 5, 2016