French interior minister says jailing suspects counterproductive
Comments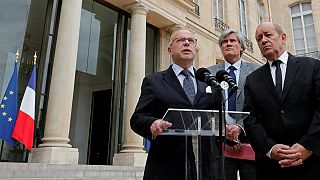 Locals in the Normandy village of Saint-Etienne-du-Rouvray are struggling to come to terms with Tuesday's (July 26) tragedy when two knifemen interrupted a church service and brutally murdered the elderly priest.
One of the attackers was a known would-be jihadist awaiting trial under supposedly tight surveillance.
"It's hard to admit, but we are scared," said local resident Mulas Arbanu. "This kind of thing is happening everywhere. There is no security anywhere. I hope it is going to calm down. I hope people are going to be reasonable, intelligent. We cannot do these things. It is not right to do this."
Former president Nicolas Sarkozy criticised Francois Hollande's record since last year's Charlie Hebdo attack. Sarkozy told Le Monde newspaper the French left is clinging to a mindset that is out of touch with reality.
He has called for the detention or electronic tagging of all suspected Islamist militants, even if they have committed no offence.
France's internal security service has confidential "S files" on some 10,500 suspected jihadists.
The interior minister said jailing or tagging suspects would be unconstitutional and possibly counterproductive. After meeting with the security council in Paris on Wednesday (27 July), Bernard Cazeneuve announced other measures. He said more than 23,000 additional reserve military police will be mobilised nationwide to ensure the normal functioning of events.
France was already in a state of shock less than two weeks after the Nice truck attack. In November 130 people died in shooting bombings in and around Paris.
In March, three militants linked to the Paris attacks killed 32 people in the Belgian capital.
FRANCE: moment police gun down #ISIS jihadis charging out of church while using nuns as human shields pic.twitter.com/wwRJeHihUX

— Amichai Stein (@AmichaiStein1) July 27, 2016
FRANCE: moment police gun down #ISIS jihadis charging out of church while using nuns as human shields