Unity, Security, Solidarity: religious leaders meet French president after Normandy church attack
Comments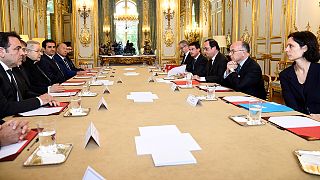 Religious leaders in France called for unity and solidarity after meeting with President Francois Hollande. It comes in the wake of an attack on a Normandy church, where two Islamist militants killed a Roman Catholic priest. They also called for security at places of worship to be increased.
We must not get dragged into the political games of Daesh

Archbishop of Paris
Meeting with the French president, representatives of Christian, Muslim, Jewish and Buddhist faiths expressed their sorrow, but also called for unity against Islamist violence.
"This is a fact beyond Islam, a fact that all Muslims in France rejects in a most crucial manner. We are presenting the Archbishop our deepest condolences," Dalil Boubaker, Rector of the Great Mosque of Paris said in a statement after the meeting.
While the Archbishop of Paris, André Armand Vingt-Trois, said that harmonious interfaith relations were a source of strength, adding, "we must not get dragged into the political games of Daesh, (referring to ISIL), which wants to set the children of the same family against one another."
Facing criticism over security measures from right-wing opponents, Hollande promised Pope Francis that 'everything would be done' to protect churches and places of worship'.
FRANCE – A Police officer stand guards the Saint-Etienne church after brutal church attack. By CTriballeau</a> <a href="https://twitter.com/hashtag/AFP?src=hash">#AFP</a> <a href="https://t.co/ypXQkRRVkZ">pic.twitter.com/ypXQkRRVkZ</a></p>&mdash; AFP Photo Department (AFPphoto) July 27, 2016