Notre Dame Mass commemorates slain priest Jacques Hamel
Comments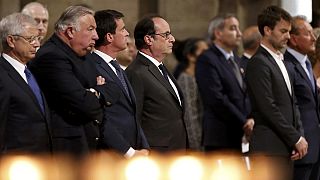 The French president and prime minister attended a service in Notre Dame cathedral on Wednesday (July 27) the day after two militants murdered 85-year-old priest Jacques Hamel in a Normandy church.
The Requiem Mass was led by the archbishop of Paris who said that it is hope that allows us not to succumb to hate when we are taken by torment.
"It's this hope, at the heart of the test, which forever bars the path of despair, of vengeance, and of death. It's this hope that animated the ministry of Father Jacques Hamel when he celebrated the eucharist during which he was savagely executed," said Cardinal André Vingt-Trois.
"It's this hope which supports the Christians from the Orient when they must flee before persecution, and they choose to leave everything rather than renounce their faith. It's this hope that lives in the heart of hundreds of thousands of young people gathered around Pope Francis in Krakow. It's this same hope which permits us do not succumb to hate when we are taken by torment," Vingt-Trois added.
After the service, Francois Holland and Manual Valls left together with Cardinal Vingt-Trois while the congregation applauded.
Extra security at Notre Dame de Paris, service to commemorate attacks about to begin pic.twitter.com/EzCKTC6dNP

— Sofia Bettiza (@SofiaBettiza) July 27, 2016