Exclusion of Russian athletes from Rio is 'discrimination', says Putin
Comments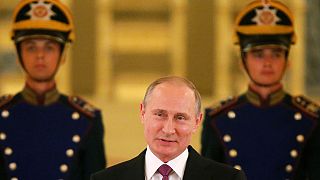 The exclusion of Russian athletes from Rio is "discrimination". That was what Russian President Vladimir Putin said in an address to sportsmen and women at an official send-off. He also called for unified international standards for doping control.
"The deliberate campaign targeting our athletes was characterised by so-called double standards and opted for the idea of collective responsibility, which is not compatible with sport, justice in general, or the basic norms of law," said Putin.
Speaking to members of Russia's Olympic team in the Kremlin, Putin said that the absence of their competitors would damage international sport and the Games themselves. He added that victories would have a completely different taste without competition from Russia.
The Russian team is at the centre of a state-sponsored doping scandal reported by the World Anti-Doping Agency ahead of the Rio games.
Originally 387 competitors were slated to go to Rio and Russia escaped a blanket ban. So far 108 athletes have been disqualified, and more than 200 are still waiting to hear whether they can compete.
The TASS news agency reported that the disqualified track and field athletes would take part in a domestic tournament on July 28th. Organised by the All-Russian Athletics Federation (RAF) it will take place at the Znamensky Brothers stadium in Moscow.
"About 135 track-and-field athletes are going to compete. They include Olympic champions and medal holders as well as less renowned athletes forbidden to compete in Rio. Pole Vaulter Yelena Isinbayeva will not compete. She has decided to have a rest after such a hard season," head athletics coach Yuri Borzakovsky told TASS.