History is made as Hillary Clinton secures presidential nomination
Comments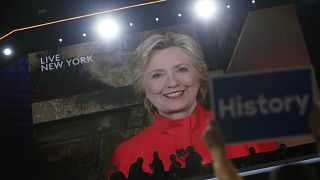 Hillary Clinton has secured the Democratic Party's 2016 nomination for the White House, becoming the first woman to do so for a major US party.
She reached the milestone in a roll call vote from all 50 states at the Democratic National Convention (DNC).
Delegates from South Dakota gave her 15 votes ensuring she passed the 2,382 delegates needed to claim the presidential nomination. She emerged with a total of 2,842 votes to Sanders' 1,842.
south dakota delegation introduces itself in indigenous language of the lakota people! #demsinphilly#nativevote16pic.twitter.com/3Sdxxo59rQ

— fuzzzzzz (@ponorit) July 26, 2016
Hillary Clinton spoke by video link to the convention after the vote, describing her nomination as "the biggest crack in the glass ceiling yet".
"If there are any little girls out there who stayed up late to watch, let me just say, I may become the first woman president but one of you is next. Thank you all, I can't wait to join you in Philadelphia, thank you!" she said.
Clinton aims to follow in the footsteps of her husband who was US president between 1993 and 2001.
Bill Clinton told the convention his wife was the "best darn change-maker" he had ever known.
"Hillary will make us stronger together… Those of us have more yesterdays than tomorrows, tend to care more about our children and grandchildren. The reason you should elect her is that in the greatest country on Earth, we have always been about tomorrow," he said.
VINE: HillaryClinton</a> breaks glass ceiling at <a href="https://twitter.com/hashtag/DemConvention?src=hash">#DemConvention</a> <a href="https://t.co/7md7wBWRIj">https://t.co/7md7wBWRIj</a></p>&mdash; CSPAN (cspan) July 27, 2016
Hillary Clinton's nomination comes after rival Senator Bernie Sanders' supporters disrupted the first day of the convention with boos and jeers. But party officials have worked to ease tensions amid protests on the floor.
Sanders has endorsed Clinton, a former first lady and US senator, but some of his supporters protested in Philadelphia against the party leadership's apparent backing of her during the bitter Democratic primary fight.
Sections of the convention hall were left conspicuously unpopulated on Tuesday night as delegates from strongly pro-Sanders delegations, including California, walked out after Sanders moved that Clinton be named the nominee.
However after a tough battle with Sanders, Clinton is now the party's standard bearer against Republican nominee Donald Trump in the November 8 election.
Empty seats at the #DNCinPHL where SenSanders</a> delegates used to be <a href="https://t.co/su48ouHjAA">pic.twitter.com/su48ouHjAA</a></p>&mdash; James Astill (JamesMAstill) July 26, 2016