Russia welcomes IOC decision as "objective"
Comments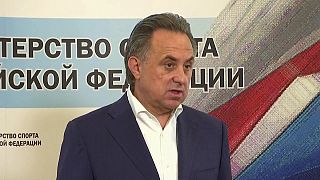 Moscow has welcomed the decision by the International Olympic Committee (IOC) saying it was grateful that it had not imposed a complete ban on Russia competing at the Rio Games.
Doping is an evil on a world scale....it is not only a Russian problem

Russian Sports Minister
Russian Sports Minister Vitaly Mutko, described the decision as "objective" but "very tough" and also stressed that doping is a global problem.
"This is a very important decision and it seems to me that it has been taken in the interest of unity within the sport world….because doping is an evil on a world scale. It is not only a Russian problem."
To comply with the IOC decision of leaving it up to individual sports federations to decide whether an athlete can compete, the 28 federations have just 12 days to carry out an individual analysis of each competitor's anti-doping record.
"If they had taken a negative decision, I would have been 100 percent certain that that was the beginning of the decline of the Olympic movement. But credit where credit is due: the IOC has taken a very reasonable decision," said former Russian figure skating champion Irina Rodnina.
The International Association of Athletics Federations has already ruled that Russian track and field athletes will not compete at the Games, but the door is now open in other sporting disciplines.
Olympic pole vault champion Yelena Isenbayeva was critical of the situation and said she won't be watching the Games.
"I will temporarily disappear. I need to mull this over. It is difficult because it is not fair because this decision is being taken for us due to other people's mistakes. Of course I will not watch the pole vaults. Any girl that wins in Rio I will consider second, because so far nobody has jumped higher than me."
The IOC has come under fire in other quarters too. The US's anti doping agency (USADA) said the committee had failed to show strong leadership while several high profile athletes said the IOC had been spineless.
Anti-doping leaders view IOC decision as a blow to clean athletes, via Reuters</a>: <a href="https://t.co/IWVsm8TLOH">https://t.co/IWVsm8TLOH</a> … <a href="https://twitter.com/gcral">gcral

— Ryan Madden (@Ry_Madden) July 24, 2016