Firefighters battle fast-moving California wildfire
Comments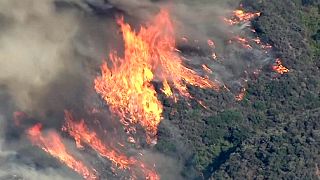 Burning for more than three days, the Sand Fire in California has grown to cover more than 13,000 hectares.
Fueled by high winds and parched conditions after years of drought in the Golden State, the ferocious wildfire is threatening many small communities near Santa Clarita on the edge of Los Angeles National Park.
"Within 45 minutes it travelled that 10 miles it was right to our back yard," local resident Mark Dewberry told a reporter, "(it was)100 feet tall, I mean full tornado fire. Spinning, nothing like I've ever seen close up."
More than 1,600 firefighters are struggling to battle back the blaze.
"The fire activity out on the Sand Fire is extreme," commented Justin Correll, a spokesperson for the firefighters. "Conditions are extremely hot. Conditions are dry. In these conditions it makes it very difficult for firefighters to suppress these fires."
As of Monday morning just 10 per cent of the fire had been contained.
2 massive California wildfires threatening thousands of homes. https://t.co/TwDGgK23v7pic.twitter.com/xyVpnTGRXM

— The Oregonian (@Oregonian) July 24, 2016
More than 1,500 residents have been evacuated and 18 homes reduced to cinders. One body was found inside a charred vehicle, though the cause of death has not been established.