Shooting victims were not classmates of Munich gunman
Comments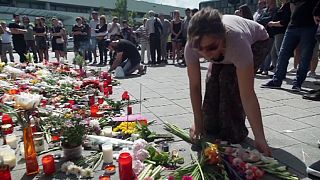 Those gunned down in Munich last Friday were not former classmates of the killer, nor were they specifically targeted.
I am feeling strange and I am feeling not safe

Munich resident
But that new information from German authorities, revealed on Sunday, does nothing to lessen the pain of those mourning the victims – seven of whom were teenagers.
Floral tributes continue to be laid at a makeshift memorial outside a shopping centre, at the scene of the massacre.
Well-wishers feel sorrow, shock and unease.
"I came here because of the people who died and the people who are maybe in hospital" said Munich resident Korina Kiriyak.
"I am feeling different. I am feeling strange and I am feeling not safe. Not safe enough. It is a very strange feeling for me. It is a new feeling because in general Munich is a very, very safe city," said fellow local Eva Andreeva.
Munich mourns victims of mass shooting at #OEZ mall. By @Dana_Regevhttps://t.co/xohtglirNjpic.twitter.com/MtRPp0oblC

— dwnews (@dwnews) 24 juillet 2016
All nine people shot dead – of various ethnic backgrounds – were remembered this Sunday in a mass at Munich Cathedral. An official state memorial will be held in a week's time.
First pictures released of Munich massacre victims as young as 13 https://t.co/9F9ap6t04hpic.twitter.com/JZMcbASJAJ

— Daily Mail Online (@MailOnline) 23 juillet 2016