Italian coast guard rescues 2,150 migrants in 18 separate missions
Comments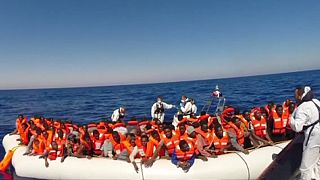 Some 2,150 migrants and refugees were rescued from boats and dinghies in the Strait of Sicily in 18 separate operations on Friday, the Italian coast guard said.
#CentraleOperativa coordina 18 operazioni #SAR. Unità #GuardiaCostieraItalianNavy</a> <a href="https://twitter.com/hashtag/EUNAVFORMED?src=hash">#EUNAVFORMED</a> <a href="https://twitter.com/Frontex">Frontex#ONG salvano circa 2150 #migranti

— Guardia Costiera (@guardiacostiera) July 22, 2016
The Italian coast guard released footage of three of the rescue operations, including a mission during which 375 people were rescued from three crammed rubber dinghies.
On Sunday, 1,000 rescued refugees and migrants, including many children, were brought into the port of Cagliari in Sardinia.
#Migrants#refugees,#IOM:81K arrivals in #Italy by7/20(+4,200 rescued since Wed),242K in #EUhttps://t.co/rWKuy7O80Jpic.twitter.com/bi8H7oYJsJ

— OnuItalia (@Onuitalia) July 22, 2016