Turkey keeps up pressure of those it says were behind coup attempt
Comments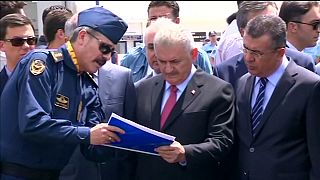 One week after Turkey's brief but abortive coup, Prime Minister Binali Yildirim made a visit to the HQ of the police special forces, in Ankara.
According to local media, 47 police officers lost their lives when it came under attack by rebel soldiers.
Yildirim said the coup had been crushed but another one could be on the way. More than 240 people in total were killed.
He urged Turks to stay calm and said life had returned to normal, but said there was no room for complacency.
"There may be some people who would try to take advantage and stage another attempt, leading people to fear and panic."
Meanwhile the foreign minister Mevlut Cavusoglu said the extradition of Fethullah Gulen from the US could years or it could happen in a very short period of time. He called on America to speed up the process.
"What we demand from America is so plain and obvious, Cavusoglu said.
"The US should not hold Fethullah Gulen who is behind the coup attempt.
"We have shared necessary files with them and we want to see concrete results of our collaboration."
Gullen, a preacher, imam, writer and political figure in self-imposed exile in the US, has condemned the attempt to oust the Turkish government and says he was in no way involved.
After Friday prayers President Recep Tayipp Erdoğan thanked his supporters who were crucial to stopping the coup by taking to streets.